Pickle Fest is BACK on Saturday 18 November 2023 for a celebration of all things preserved, fermented and pickled. Get your ticket here.
Saturday 18 November, 15:00 - 22:00
SADACCA G-Mill, 48 Wicker, Sheffield S3 8JB

Suggested donation for entry: £10 donation / £5 waged / £3 unwaged

Pickle Fest is organised and run totally by volunteers so we suggest a donation for entry and to cover costs but any more will feed into the project and next year! We also don't want it to be a barrier so operate a pay-what-you-can model.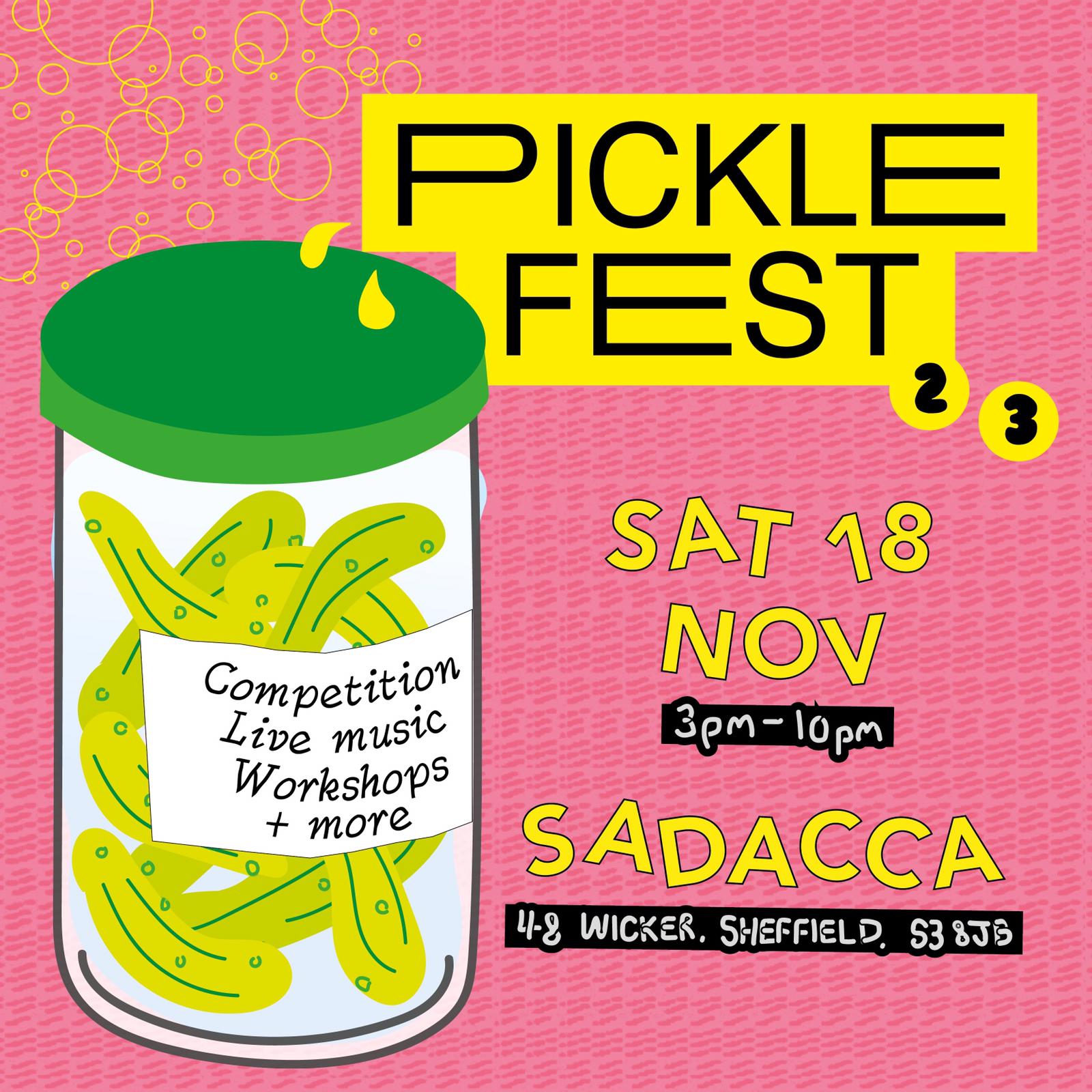 The day will kick off with a communal fermenting workshop, Do-It-Yourself screen printing and various activities. Later we'll have our annual community-judged pickle competition, where anyone can enter a jar and everyone can taste and vote on their favourite fermented or preserved products. Whether it's hot sauce or jam, we want you to bring your wildest creations for the competition to get the chance of being crowned a peoples' pickle champion.
COMPETITION
Submit your homemade creations in the following categories between 15:00 - 17:00:
➪ Jam
➪ Chutney
➪ Hot Sauce
➪ Not-hot sauce
➪ Pickles
➪ Ferments (krauts, kimchis, veggies)
➪ Drinks and vinegards (no alcohol)
➪ Firm Ferments (miso, cheese)
Tasting and (collective) judging begins at 17:00 and ends at 19:00 along with live music and DJs running alongside. The people's pickle champion and runner-ups of each category will be announced at 21:00. 
FOOD & DRINK
Alongside the comeptition entries we will be selling cooked vegan food between 16:00 - 19:00. SADACCA will be running a bar and Social Pickle will have some warming non-alcholic drinks too. Social Pickle operate a pay-what-you can model so no one will be turned away for lack of funds. 
WORKSHOPS
We will be running a drop-in communal sauerkraut making workshop from 15:00-17:00. Come along for a hands-on experience of making your own fermented vegetables, run by pickle and fermentation enthusiasts. Don't forget to bring a clean jar or container to take your creation home!
Also from 15:00-17:00 there is Do-It-Yourself screen printing. Bring your old tops and tea-towels to give them a new lease-of-life with some official Pickle Fest '23 creations.
Social Pickle will also have its own 'Market Stall'. Where we will be selling some of our fermenting and pickling creations from our 'Glut Clubs' as well as waxing lyrical about all things food preservation. Come along and join us for a chat.
More information and activities will be shared nearer the time so follow us on social media to keep updated.
MUSIC
We have a host of artists and bands to delight your ears including:
Soup Review - the Pickle Fest regulars will be joining us for a stripped back set with one part of the duo, Mario D'Agostino taking to the stage... as it wouldn't be Pickle Fest without some Soup Review.
Lucy and Hazel - from our very own Sheffield. Expect feminist and anti-capitalist folk with lush harmonies and rousing choruses, equal parts love, rage and humour!
Oh Hippo - a

dreamy indie six-piece with hazy layered vocals and synths will be

winding their way across the peaks from Manchester just to join the pickling fun.
SCHEDULE
15:00           - Pickle Fest '23 officially starts!
15:00-17:00 - Drop off your competition entries
15:00-17:00 - Drop in communal sauerkraut making workshop
                      DIY screen printing 
16:00-19:00 - Food available
17:00-19:00 - Competition tasting and voting begins         
19:00           - Voting closes
19:00-21:00 - Live music
21:00           - Pickle Fest champions and runners up announced
22:00           - That's all folks!       
ABOUT THE SPACE & ACCESSIBILITY
This year Pickle Fest is taking place at SADACCA's (Sheffield and District African Caribbean Community Association). An inclusive and collaborative space that has been at the heart of Sheffield for over 30 years. They are an amazing organisation so please respect them, their staff and the awesome space.
The G-Mill space is accessible for wheelchair users. There is also a disabled toilet that can be opened by request in a seperate part of the building which involves going outside.
Get your tickets here, get pickling and see you for Pickle Fest 2023!